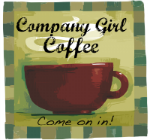 Since
breaking my leg
, it seems that the days just crawl by. I've been reading, watching movies, playing games on our Wii, and working on a quilt that I started about 3 years ago.
While we are still waiting to get matched with a child, we have
decided on her name.
I want to make something to hang on the wall in here room that has her name on it and some kind of inspirational saying or verse. Something that conveys she's always been loved and wanted and that God will always be with her. I've had several bible verses go through my mind, and I've looked through a book of poetry that my mom gave me when I got married. Nothing has jumped out yet. Any suggestions?
Happy Weekend!